Today we're checking out mangosteen and some of its awesome benefits! Keep reading the article from stylecraze pasted below to learn more! Don't forget to check back next week for part 3 of this post!–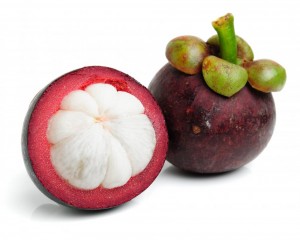 5. Reduces Cholesterol:
Diet rich in mangosteen is helpful in reducing the level of cholesterol in human body. It also helps to control the level of triglycerides to take care of proper working of human heart.
6. Tuberculosis:
Mangosteen fruit contains strong antibacterial and antifungal properties besides being highly effective in boosting weak immune systems. Its inhibitory action against harmful bacteria is effective for patients suffering from tuberculosis.
7. Cancer:
The antioxidants found in mangosteen help to prevent cancer and other cardiovascular diseases. It is a powerful and effective antioxidant that protects our body from free radicals that cause oxidative stress, or" cellular rust" that can lead to host of severe medical conditions.
8. Blood Pressure:
Mangosteen also contains high amounts of of minerals like copper, manganese and magnesium. Potassium provides protection against strokes and coronary heart diseases as it is an important component of cell and body fluids and controls heart rate and blood pressure.
9. Anti-inflammatory:
Mangosteen contains anti-inflammatory properties which is highly beneficial for people who suffer from sciatica pains which cannot be controlled by drug treatment. Consuming mangosteen two to three times a day will help to relieve pain through its anti-inflammatory and cox-2 inhibitor effects.
10. Alzheimer's:
One of the major health benefits of mangosteen is its effectiveness in treating Alzheimer's disease. This disease is accompanied by symptoms like confusion and perplexity and difficulty in remembering things.
Not just mangosteen fruit, Mangosteen rinds and other parts also contain many health benefits.
While the dried powder of mangosteen rind is used in the treatment of dysentery, its paste can be used to treat eczema and some other skin disorders.
A decoction made of mangosteen rind can be used to treat diarrhoea, whereas a decoction made of mangosteen roots is used for regulating menstruation.
A decoction made of mangosteen leaves and bark, is beneficial in bringing down body temperature and also to treat thrush and urinary disorders.
Is mangosteen awesome or what? Check back next week for part 3 of this post!